UK
Teesside Airport: Plane stored on field 'has £200k damage'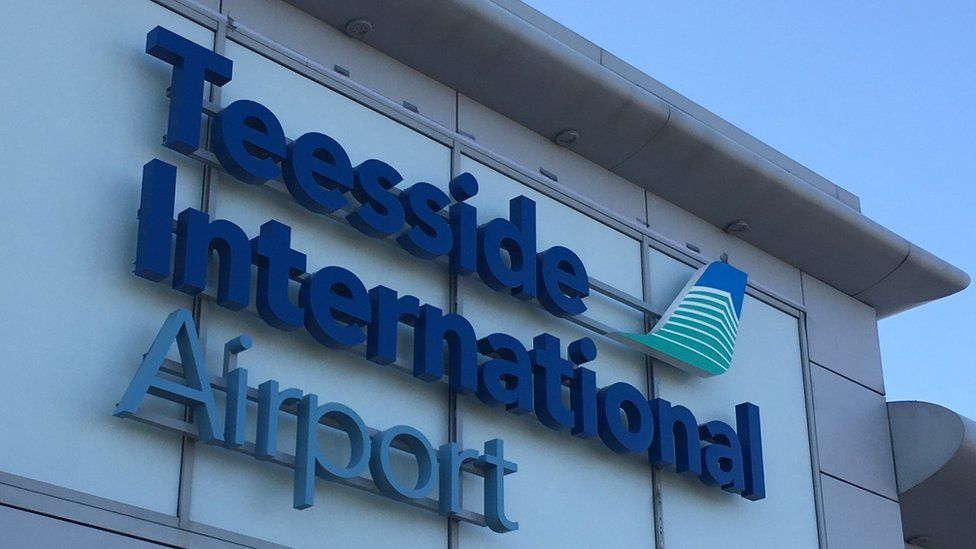 A group of men climbed on to a plane next to Teesside International Airport causing what police said was £200,000 worth of damage.
About 10 people got into the field on Sunday at about 21:30 BST where the "retired" aircraft was being stored.
The men later fled the scene in several vehicles, Durham Police said.
Airport bosses said the landside site was "away from the operational airfield" and the vandals did not enter airside.
The airport added security patrols had been increased across the entire site because of what happened.
It is understood the targeted aircraft had already been in the process of being dismantled.
Anyone who saw the men escaping has been urged to contact police.
Durham Police earlier released information saying "entering an airfield without permission was a criminal offence", however, the force has since clarified that the men did not gain access to it.
A Teesside International Airport spokesperson thanked police for their "rapid response".
"An incident occurred on Sunday night during which time vandals gained access to a landside area of the site, away from the operational airfield where the retired aircraft was being stored in a field," they added.
"We can confirm that they did not gain access to the airside area.
"We would like to remind the public that trespass on to airport land can be a criminal offence and we have in place a zero-tolerance policy against anyone who gains unauthorised access to the site."
The investigation is ongoing.


Follow BBC North East & Cumbria on Twitter, Facebook and Instagram. Send your story ideas to northeastandcumbria@bbc.co.uk.
Related Internet Links
The BBC is not responsible for the content of external sites.