World
Nato summit: Turkey pushes Finland and Sweden on extradition after deal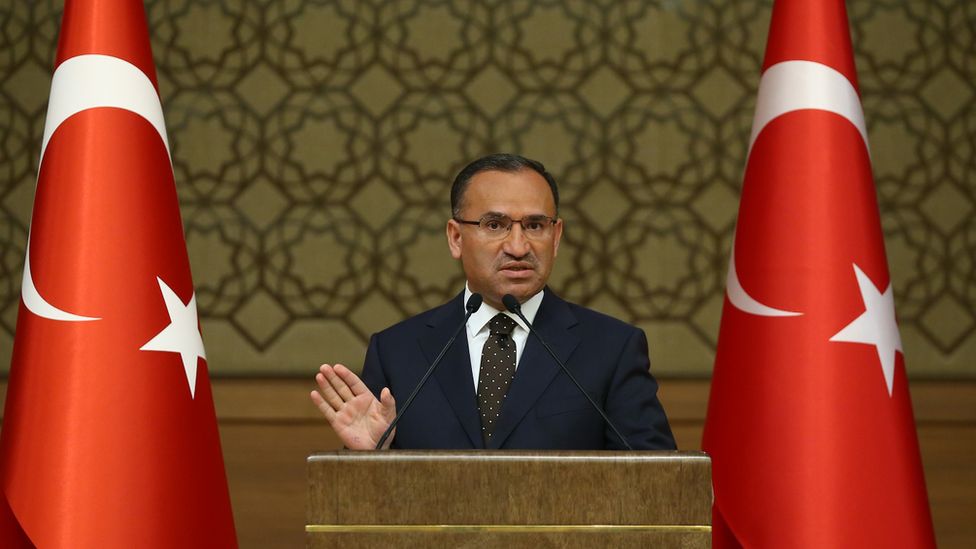 Image source, Getty Images
Turkey says it will now be pushing for the extradition of 33 "terror" suspects from Finland and Sweden, under a deal that lifted Ankara's objections to the two Nordic states' bids to join Nato.
Turkey would ask them to "fulfil their promises", the justice minister said.
Ankara has accused both Finland and Sweden of hosting Kurdish militants.
The Nordic states agreed late on Tuesday to "address Turkey's pending deportation or extradition requests of terror suspects expeditiously".
Finland and Sweden declared their intention to join the 30-member Western defensive alliance in May, in response to Russia's invasion of Ukraine.
Turkey initially threatened to veto their application but after four hours of talks at the Nato summit in Madrid the three countries reached a compromise. Nato leaders are expected to officially invite Finland and Sweden to become members before the end of the meeting.
Russia condemned the expansion of Nato as a "strictly destabilising factor". "The Madrid summit affirms the bloc's course at aggressive containment of Russia," Deputy Foreign Minister Sergei Ryabkov was quoted as saying by Interfax news agency.
Will Sweden and Finland go from neutral to Nato?
"We will seek the extradition of terrorists," said Justice Minister Bekir Bozdag.
He called on Finland to hand over six members of the Kurdistan Workers Party (PKK) and another six from the movement of exiled Turkish cleric Fethullah Gulen.
Turkey also wants 11 PKK members and 10 Gulenists to be extradited from Sweden.
The PKK, formed in the late 1970s, launched an armed struggle against the Turkish government in 1984, calling for an independent Kurdish state within Turkey. Meanwhile, the Gulenists are blamed by Turkey for a failed coup against President Recep Tayyip Erdogan in 2016.
Who are Kurdistan Workers' Party (PKK) rebels?
What is Turkey's Gulen movement?
While the PKK is considered a terrorist group by the EU, US and UK, they do not view the Gulen movement in the same light. Finland and Sweden have so far made no public comments on the Turkish request.
Under Tuesday's trilateral memorandum, Helsinki and Stockholm agreed to "prevent activities of the PKK" and not support Gulenists. They also promised not to support the Syrian Kurdish Democratic Union Party (PYD) and its military wing, the People's Protection Units (YPG) – which Ankara insists is an extension of the PKK.
The two countries also pledged to lift their restrictions on selling weapons to Turkey.
Finnish President Sauli Niinisto said the three countries signed the deal "to extend their full support against threats to each other's security", while Swedish PM Magdalena Andersson said it was "a very important step for Nato".
President Erdogan's office said it "got what it wanted". But the deal was condemned by Kurdish activists.
Amineh Kakabaveh, a Swedish lawmaker of Iranian Kurdish descent, said it was a "black day" for Sweden. She argued that Stockholm was simply sacrificing the Kurds.
By joining Nato, Sweden will end over 200 years of non-alignment. Finland adopted neutrality following a bitter defeat by the Soviet Union during World War Two.



Magdalena Andersson looked visibly happy in the Madrid sunshine as she told Swedish Television's morning show that she'd slept well after the "big day" that saw Turkey finally sanctioning a Nato spot for Sweden and Finland.
It was a marked contrast to the reaction from Amineh Kakabaveh, an independent MP and one of Sweden's 100,000-strong Kurdish diaspora. She's become something of a global political celebrity in recent weeks, appearing on international TV channels to argue Sweden shouldn't make concessions to Turkey, which she's described as an Islamist dictatorship.
She described Tuesday as "a black day in Swedish political history" and said Kurds were being sacrificed for the sake of Nato membership.
Sweden had previously indicated it would continue to support the Kurdish group YPG, which fights the terrorist group IS in Syria. But the Nato agreement indicates this won't be the case, since Turkey considers the group's political arm to be a cover for the militant PKK.
While plenty of Kurds in Sweden back the MP, she has little power. Around 80% of MPs backed Sweden's Nato application, and with parliament now broken up and an election in September, the prime minister's Social Democrats no longer need her support.