UK
Election win should trigger Scottish independence, says Sturgeon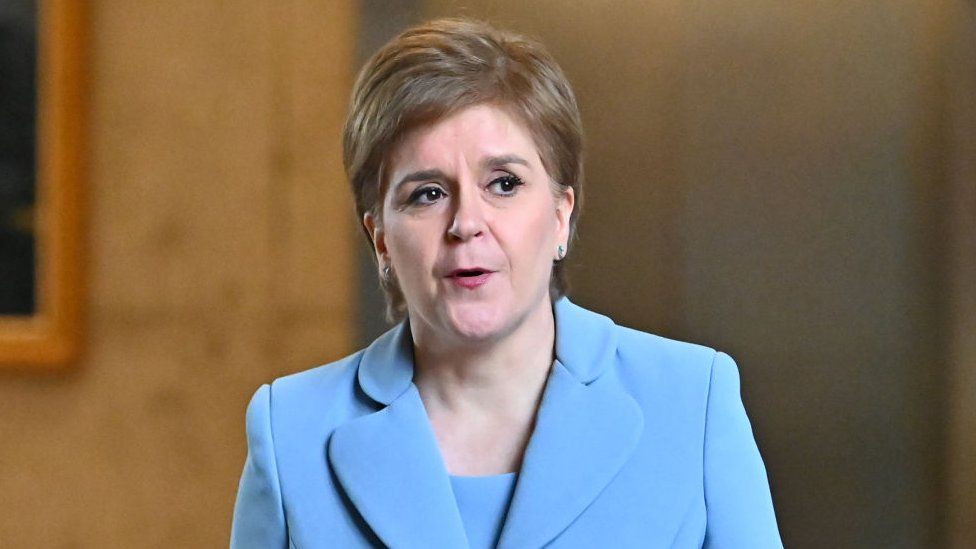 Image source, Getty Images
Scotland could become independent if the SNP won a majority of votes in a UK election, Nicola Sturgeon has said.
The first minister wants a referendum in 2023, and is pushing for the Supreme Court to rule on a bill to set this up.
If this does not happen, she has said the SNP would treat the next general election as a "de facto referendum".
Prime Minister Boris Johnson said it was the government's "longstanding position" that it was not the right time for another independence vote.
He said: "We will look carefully at what [Nicola Sturgeon] says. Don't forget that the longstanding position is that we don't think this is the right time to be doing a constitutional change."
"I think our economy is all the stronger for being together," he added.
Mr Johnson continued: "This is a time really now to focus on things which the union can deliver for the economic benefit of everybody."
BBC iPlayer – Independence: Why Scotland could vote again
Sturgeon proposes 19 October 2023 for referendum
The indyref2 questions facing the Supreme Court
In an interview with BBC Scotland, the first minister said: "Scotland can't become independent without a majority of people voting for it".
She said: "I hope we can resolve these things in a referendum, that is the proper way of doing it. But if all routes to that are blocked then the general election will become the vehicle for people to express their view."
Ms Sturgeon said she wanted to be clear about the principle and the practical reality "that Scotland cannot become independent unless and until a majority of people in Scotland vote for independence".
She added: "The issue of practical reality is that when a majority vote for independence, I hope in a referendum, that will have to be followed by a negotiation with a UK government to implement that decision."
If there were to be a vote in favour of Scottish independence – whether that be via the referendum Ms Sturgeon wants, or a de facto referendum based on a general election result – it would be followed by negotiations between the Scottish and UK governments.
Then, legislation would have to be passed at Westminster and perhaps Holyrood before Scotland became independent.
Ms Sturgeon said on Tuesday that the UK Supreme Court had been asked to rule on whether the Scottish government has the power to hold an independence referendum without agreement from Westminster.
Ahead of the 2014 referendum, the UK government agreed to a temporary transfer of powers to Holyrood to allow the referendum to go ahead.


The idea of a "de facto referendum" is a radical one, given Nicola Sturgeon's reputation for caution and the fact her team had previously dismissed it as a strategy.
It raises many questions about how such a scheme would work, which ministers now find themselves talking about rather than their main plan – to hold an actual referendum.
After all, the first minister's hope is that the last resort will never be needed. Her wish is still to do a deal with the UK government which would see both sides sign up to an agreed process in the style of 2014.
Bold talk of using a general election instead is chiefly a tool to force the pro-UK side to take their fingers out of their ears and engage with the issue, rather than a finalised strategy to deliver independence.

Earlier on Wednesday, Ms Sturgeon's deputy John Swinney suggested that he considered a win to be the SNP winning the majority of seats contested in Scotland.
He was asked on BBC Radio's Good Morning Scotland: "If you have a majority of Scottish MPs at the next UK general election, that would be a mandate to start negotiations for an independent Scotland?"
He replied: "That's correct, yes."
But he went on to Tweet that he had "misheard" the question, and added that his view would be that the SNP would need to win a majority of votes in a general election, not a majority of seats.
He said when he was asked about a "majority of seats", he had only picked up on "majority".
Mr Swinney added: "Referenda, including de facto referenda at a UK general election, are won with a majority of votes. Nothing else."
When @BBCGaryR asked me about a "majority of seats" this morning on #bbcgms, I only picked up on "majority". Referenda, including de facto referenda at a UK General Election, are won with a majority of votes. Nothing else.

— John Swinney (@JohnSwinney) June 29, 2022
The BBC is not responsible for the content of external sites.View original tweet on Twitter
Douglas Ross, the leader of the Scottish Conservatives, said on Tuesday that another referendum was the "wrong priority for Scotland" and would hinder Scotland's recovery from the pandemic.
Scottish Labour's constitution spokeswoman Sarah Boyack said the SNP were "hell-bent on gaming the electorate to suit their ends".
She said it was "deeply embarrassing for Nicola Sturgeon to be so publicly contradicted… by her own deputy".
The party has also asked for the Lord Advocate to make a statement to MSPs on Thursday to ascertain her views on whether the Scottish government had the power to hold a referendum without the UK government's approval.
It was the Lord Advocate – as the Scottish government's chief legal adviser – who was responsible for referring the matter to the Supreme Court.
A statement from Scottish Labour said it wanted the Lord Advocate to appear in the chamber to "shed some light on her views, decisions and role".
Alex Cole-Hamilton, of the Scottish Liberal Democrats, said less than a day after Ms Sturgeon's plan was unveiled that "the wheels are falling off the clown car".
He went on: "They seem to have conceded that they are heading for a defeat in court and so they are brainstorming barmy schemes for what comes next."


Do you have a question about Scottish independence? Use the form below to send it to us and we could be in touch.
In some cases your question will be published, displaying your name, age and location as you provide it, unless you state otherwise. Your contact details will never be published. Please ensure you have read the terms and conditions.
If you are reading this page on the BBC News app, you will need to visit the mobile version of the BBC website to submit your question on this topic.
View comments
Around the BBC
BBC iPlayer – Independence- Why Scotland Could Vote Again