UK
Deborah James 'taught us how to live and how to die'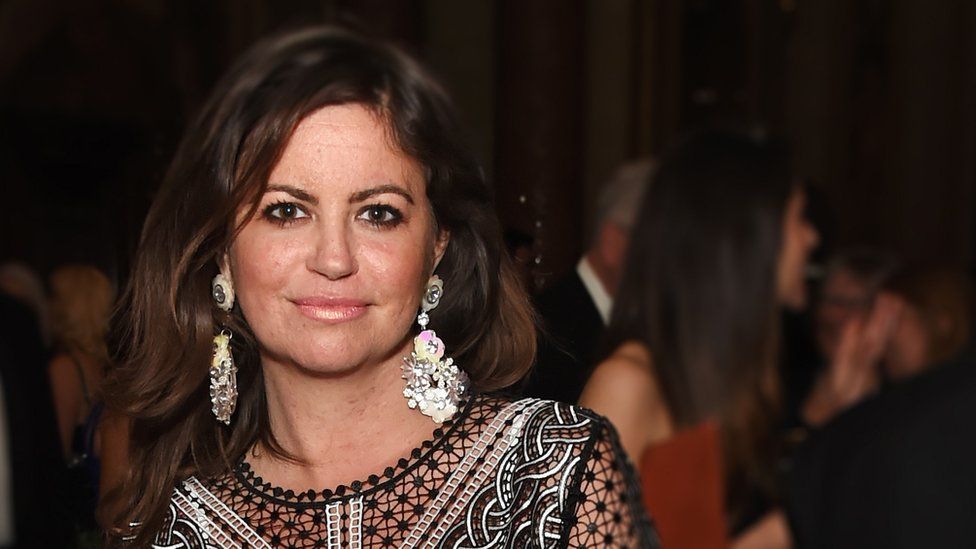 Image source, Getty Images
Podcast host and campaigner Dame Deborah James has died, after announcing in May that she was receiving end of life care for bowel cancer. With her candid persona and infectious sense of fun, the presenter of the BBC's You, Me and the Big C touched the lives of many.
"She was one of the most remarkable women I've ever met," says BBC 5 Live presenter Tony Livesey, a friend and colleague of Dame Deborah. "She had this incredible zest for life, even in the face of her own death."
Diagnosed with stage three bowel cancer at the age of 35 in December 2016, James said, "my entire world changed".
She was married to Sebastien Bowen, a banker, for 13 years, and with whom she had two children, Hugo and Eloise. After her diagnosis, she left her job as a deputy head teacher and began writing a blog, which went on to become her award-winning, weekly column Things Cancer Made Me Say, in The Sun online.
James then shot to fame as one of the presenters of the BBC podcast You, Me And The Big C alongside Lauren Mahon and Rachael Bland, in which the trio discussed the nitty-gritty of living with a cancer diagnosis.

Dame Deborah James: The Last Dance
An intimate tribute to Dame Deborah James. Following her death, we hear from friends, colleagues and fellow cancer patients as they celebrate her life and legacy.
Watch on BBC iPlayer now.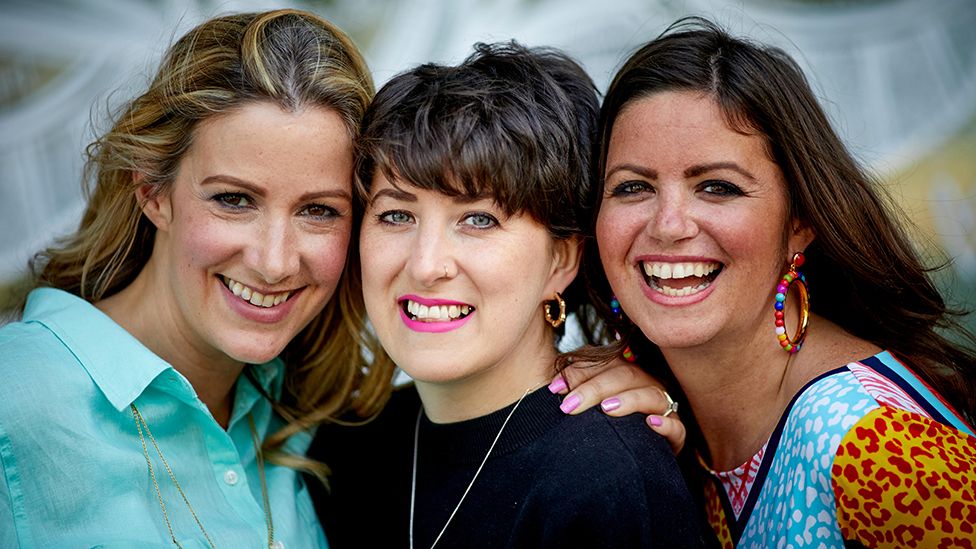 Image source, Alamy
"They didn't want to pussyfoot around it [cancer], they didn't want to use euphemistic language – they wanted to call it for what it was," says Livesey.
"But at the same time, Debs never dialled down the fun. If you looked at her social media – if she wasn't dancing in the street, or singing, she was laughing in the face of cancer."

Listen to You, Me and the Big C: Deborah James' Last Dance in which she talks about stopping active treatment for cancer

James was a patient at the Royal Marsden hospital, where she underwent more than a dozen operations and multiple rounds of chemotherapy and radiotherapy. She also received experimental cancer treatment.
It was while in an anaesthetic daze following one operation that she ordered a poo costume online. Although it had been designed for a six-year-old, she would wear it on her social media feeds and while recording her podcast to raise awareness about bowel cancer.
"We need to break the poo taboo," she said. "People are embarrassed, they don't want to talk about poo, but let's face it, we all do it."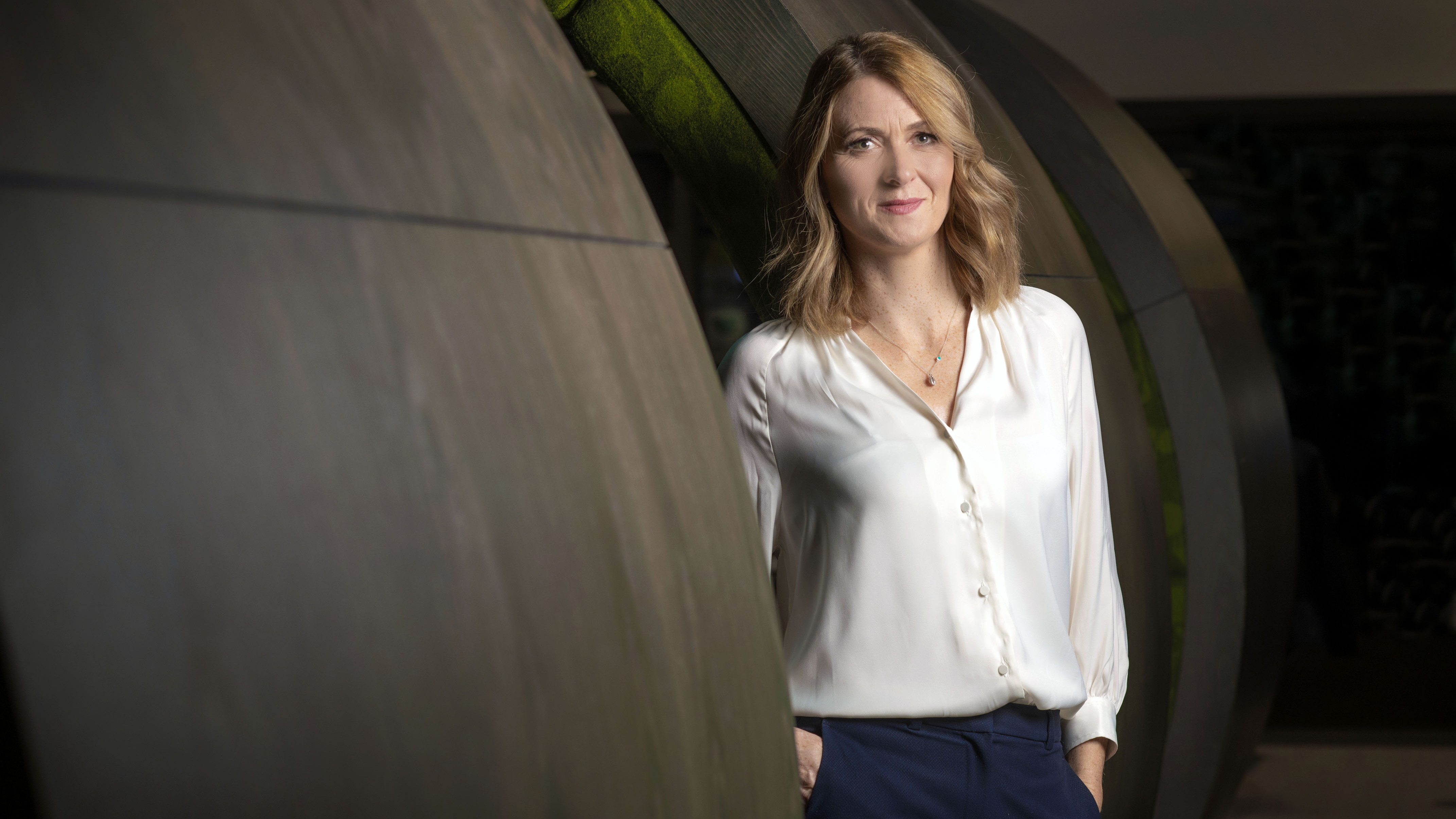 BBC
She never gave up on the joy she found in her friends and familyRachel Burden
5 Live presenter
BBC presenter Rachel Burden, who interviewed James many times, says that as well as caring passionately about supporting others dealing with cancer, James was vibrant, articulate and full of fun.
"What struck me most was how she always lived her best life, whether that was dancing at home with her kids, or cracking jokes from a hospital bed – always smiling, always beautiful, always truthful," Burden says.
"She has taught us how to live and how to die, never giving up on the joy she found in the love for her friends and family. She was immense."
James' irreverent approach gave her wide appeal – she had huge numbers of followers – more than 100K on Twitter and almost as big a following on Instagram – and had campaigned with a number of national charities including Bowel Cancer UK and Cancer Research UK.
She went on to set up the Bowelbabe Fund – named after her online handle – to fund research into personalised medicine for cancer patients, and to support campaigns to raise awareness of bowel cancer.
"She took a stage three bowel cancer diagnosis and turned it into an incredible force for good," says Genevieve Edwards of Bowel Cancer UK.
All I want is more life, says Big C's Deborah James
My body can't continue, says Big C's Deborah James
Big C podcast presenter 'in cancer-free place'
A keen runner, James described herself as loving fashion, make-up and jewellery.
"She was absolutely not defined by her cancer," says Dr Philippa Kaye, a GP and fellow bowel cancer patient who was a friend of James.
"Mother, campaigner, influencer, charity fundraiser, runner, make-up lover – all of those things made up Deborah, not just cancer."


If you have been affected by any of these issues in this story you can visit BBC Action Line.


James wrote a book, F*** You Cancer: How to face the big C, live your life and still be yourself which was published in 2018, and had planned to release another, How to Live When You Could Be Dead.
"I've got some ends to tie up," James said on the final part of You, Me and The Big C, "which include wondering if my book will ever be published".
Within days of an announcement that publication would be brought forward, James' second book was topping the Amazon bestsellers list through pre-orders.

A persistent change in bowel habit – going more often, with looser stools and sometimes tummy pain
Blood in the stools without other symptoms, such as piles
Abdominal pain, discomfort or bloating always brought on by eating
Source: NHS UK

By January 2020, doctors had declared James cancer-free, but she later discovered that the disease had returned and that she would require further surgery.
"We always knew it was going to catch me in the end," she said.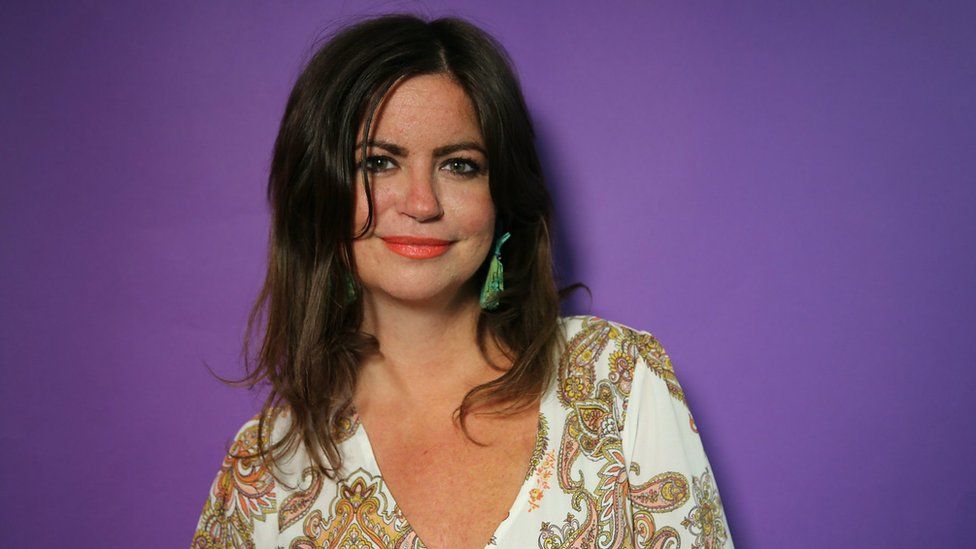 James turned 40 in October 2021 – a milestone birthday she had been told she would never reach.
There was a huge outpouring of love for her, both from the public as well as from many celebrity voices, following a social media post in which she said she had to deliver "the message I never wanted to write". Within hours donations to her fund had easily surpassed the initial target of £250,000, and continue to grow.
Days later James was honoured with a damehood, presented to her by Prince William at her parents' Surrey home.
She visited the 2022 Chelsea Flower Show to see a flower named after her which she said she hoped might one day feature in her daughter's wedding bouquet.
The white rose with dark green, glossy foliage has helped raise more funds for James' Bowelbabe Fund – donations to which far exceeded her expectations.
"It makes me feel utterly loved," she told the BBC, "it makes me feel like we're all in it at the end together."
Additional reporting by Jon Kelly